We repair and replace fascias and soffits across Warrington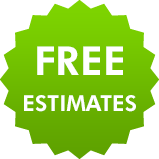 It is easy to overlook the fascias and soffits on your roof but they play an important role in protecting your roof edge and supporting your guttering. As most fascias, soffits and bargeboards are made of wood and take a beating from the weather, they are prone to rot unless well maintained.
We can give them a health check and provide speedy and affordable repairs or replacements. Many people are now opting for uPVC fascias and soffits which require little maintenance and can be supplied in a range of colours.
Why have new uPVC fascias and soffits?
It doesn't cost a fortune to replace soffits, fascias and bargeboards but it does help your roof and guttering do their job properly, especially if you choose uPVC. Our experienced roofers will also check your rafter ends and replace any damaged felt.
In addition new roof trims can make a big difference to the appearance of your property and you should have little need for further maintenance work in the future, particularly if you opt for uPVC.
Why choose us in Warrington?
We are an established and reliable local firm who have been providing a comprehensive roofing service to homeowners in and around Warrington for many years. You can call on us for:
A free no obligation quote
Fast response in an emergency
Top quality work by trained and experienced roofers
Efficient personal service from a local firm
All work backed by guarantees
Great choice of materials like uPVC and very competitive prices
If your uPVC fascias or soffits are past doing their job
You need to get in touch with us. We will arrange for an experienced roofer to check out all of your roof edges, advise you of all your options and provide a free no obligation quote. If you live in Warrington just get on the phone and dial us on Warrington 01925 204 875.